"A Double Dose of Crom!"
Presented by Crom Saunders
 "But… I don't even know it in English!"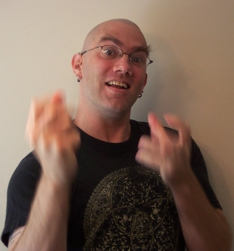 How do you interpret a surgical procedure if you're not an intern?  How do you interpret classic literature if you weren't an English major?  how do you interpret computer lingo if you can't even set the microwave clock?  This workshop will help participants develop general tools for dealing with specialized vocabulary, and to broaden the use of their already developed skills to turn jargon into understandable and sign-able concepts.  The workshop will list several models for vocabulary breakdown and translation approaches. Participants will demonstrate the ability to independently translate specialized vocabulary into appropriate visual terms without loosing conceptual meaning as well as successfully demonstrate the above abilities in a group activity.
ASL Idioms workshop:  "Champ that… me KISS-FIST"
Idioms in any language can be a challenge to master for students of the given language.  ASL Idioms present additional challenges with the necessary additional knowledge and understanding of Deaf Culture and of some of the syntactic uses of a visual language.  Some ASL idioms are rooted in Deaf Cultural norms while others are based on "a play on signs".  Still others are regional or a product of the era in which it was was formed.
Participants will learn ASL idioms that are unique to the language and Deaf Culture.  We will also learn how to use ASL idioms within appropriate context.  Attendees will be able to understand given ASL idioms and to translate/interpret them appropriately.